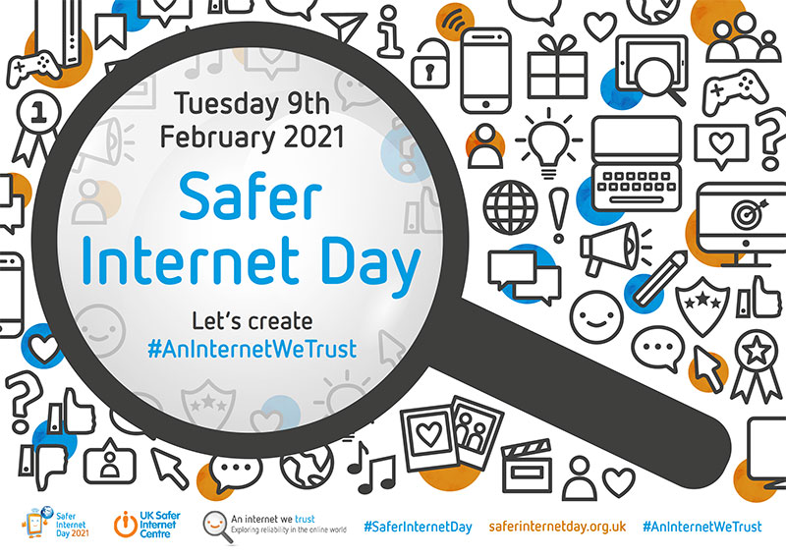 This month we are going to focus on online safety as a topic, as Safer Internet Day will be on the 9th of February 2021 this year.
Being safe online is a big thing these days, especially in current times with people being at home due to lockdown, working from home, and using the internet more often to shop or keep in touch with friends and family, and so Safer Internet Day 2021 will be celebrated in the UK with the theme:
An internet we trust: exploring reliability in the online world
The internet has an amazing range of information and opportunities online, but the question we must ask ourselves is how do we separate fact from fiction?
The internet is so overflowing with knowledge and information, and is used daily by so many people for a great deal of things like researching, gaining opportunities, keeping up with the news etc. but, the main question is how exactly can we decide what is real and what is a lie whilst also keeping ourselves safe in the long run?
It can be hard to stay on top of advice for staying safe online so you should always start with the basics so here are the top 5 tips for staying safe online:
Make sure you choose strong passwords for your secure information.
Keep your privacy settings high to ensure your security.
Ensure you're up to date with all the latest security software.
Remember to be as vigilant on your mobile as your desktop or laptop.
Don't click on links you don't trust.
If you're interested in learning more about the day and seeing what happens on February 9th, you can follow Safer Internet day on twitter @safeinternetday
Staying safe online can also be linked over to a previous topic of the month, Fraud, as one of the ways you can stay safe is to keep an eye out and avoid scams – so take a look at our previous topic too for some more tips and tricks: https://www.beaconeducationpartnership.org.uk/topic-of-the-month-fraud/
Of course, you need to make sure you are being safe online every day of the year not just on February 9th, but hopefully what you have seen today will help you to stay alert and learn how to not be unsafe when online!
BE VIGILANT, BE CAREFUL, BE SAFE!